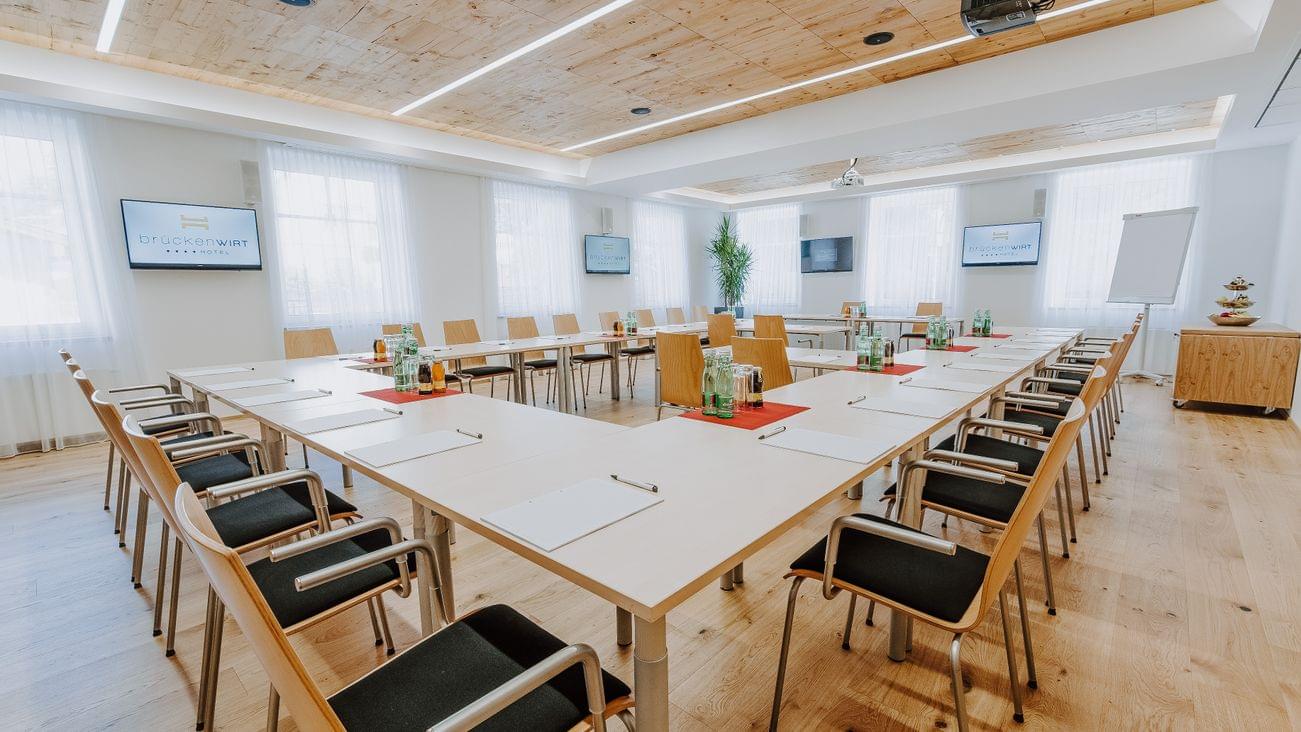 Whether you are planning seminars lasting one or several days - the Hotel Brückenwirt convinces with attractive seminar packages.
You can choose between a half-day, a full-day and a full-day package with overnight stay. All packages include the provision of seminar room technology, free wireless LAN access as well as seminar pads and pens for the participants. In addition, a business lunch will be provided, which will consist of a 3-course meal of your choice.
In addition, the packages offered include coffee breaks. During these breaks, tea or coffee is served as desired. This can be accompanied by a choice of Danish pastries or fresh rolls. Depending on the package, a certain number of drinks is included, all other orders will be charged according to consumption. The seminar must be attended by min. 10 people
.
Sie können aus folgenden Tagungspauschalen wählen:
morning or afternoon
Flipchart paper and moderation case
Free access to fast WiFi
Seminar pads and pens
2 conference drinks per person
1 coffee break of your choice
Business lunch: a 3-course menu of your choice
from € 45,00 / person
All-day "advanced" - package including dinner
Alternatively, as building blocks: small coffee breaks
Alternatively, as building blocks: small coffee breaks
Prices 2023
Seminar room rental
| | 1/2 day from | 1 day from |
| --- | --- | --- |
| Seminar room 1 | € 250,00 | € 330,00 |
| Seminar room 2 | € 150,00 | € 200,00 |
| Seminar room 1+2 | € 350,00 | € 450,00 |
| Seminar room 3 | € 100,00 | € 150,00 |
| Seminar room 4 | € 250,00 | € 330,00 |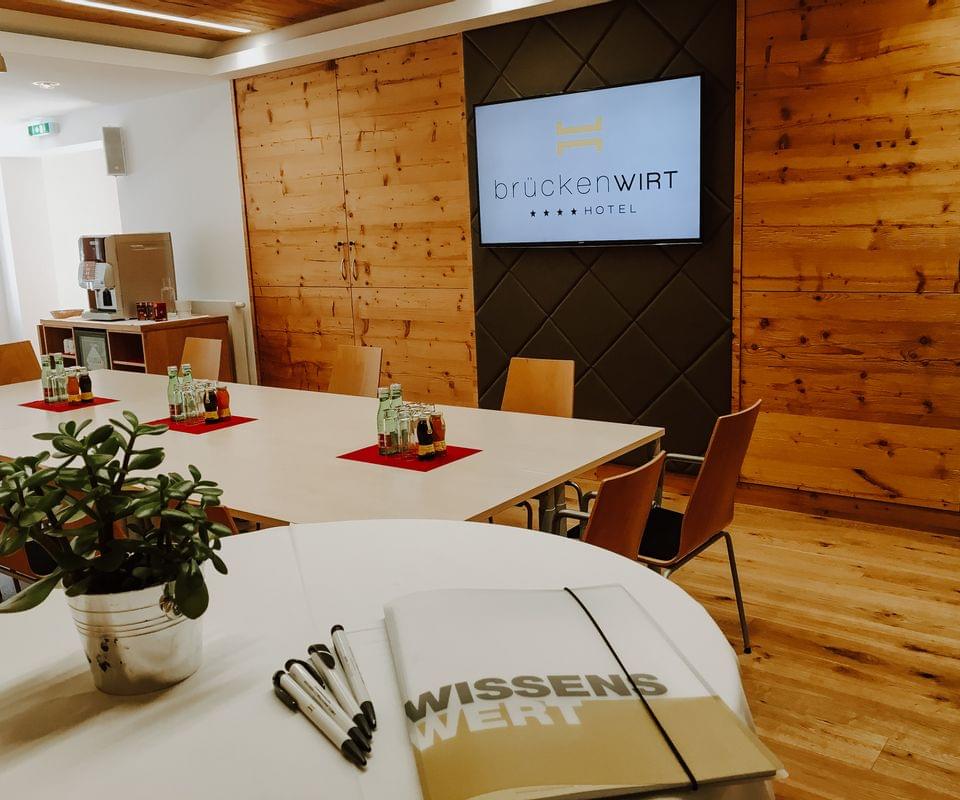 Highly modern seminar options
in St. Johann im Pongau - Salzburg
Are you interested in one of our modern seminar rooms for a meeting, a training, an exhibition or a conference? We would be happy to advise you on our seminar centre in St. Johann im Pongau.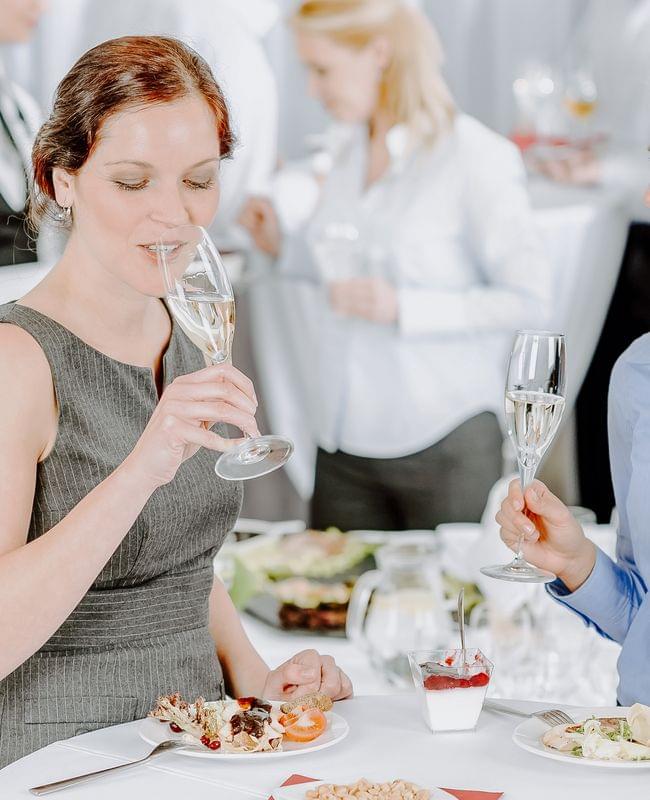 Do you already have plans for leisure time?
Framework programmes
Successful seminars need a customised framework programme. The province of Salzburg offers many possibilities for a leisure activity to round off your seminar and generate unique memories in the process.
We are happy to help you organise a social programme.
Please note that the room hire and flat rate is only valid on the day of the seminar from 7:30 - 21:00. If the seminar lasts until 22:00 we charge an additional 50 €. Seminars are not possible after 22:00
Cancellation conditions for a seminar at Hotel Brückenwirt
We ask for your understanding that we can only accept cancellations in writing. We do not charge a cancellation fee for cancellations up to 1 month before the start of the seminar. From 30 days before the start of the event until 14 days before the event, we charge 50% of the room rental. From 14 days before the seminar or no-show, the entire seminar room rental fee must be paid if the room can no longer be sold.
In the event of a complete cancellation of the seminar, we will charge 50% of the seminar fee for flat-rate seminar fees or coffee breaks from 14 days before the start of the seminar. If the seminar is held, we accept changes of +/- 5 persons free of charge.
Special cancellation fees apply for room reservations, please refer to the relevant confirmation.